WHERE AM I LOCATED? 
I am in S Portland, John's Landing area, off S Macadam Ave.  (Formerly SW Portland, now redistricted into S Portland). Group classes are at the nearby Korean Presbyterian Church.
I also have a new 2nd teaching location in Beaverton, available one day a week (currently Friday).
AM I ACCEPTING NEW STUDENTS?
Yes, contact me for scheduling/availability at each location.  I have limited availability.
WHAT ABOUT COVID-19? 
Families have had a choice to do online lessons, or in person lessons.  Almost all students at this point are doing some in person lessons.  I have a HEPA filter and all parties are still mask.
As a tight knit studio, I have discussed each family's risk factors, so that we are on the same page.  Everyone in the studio has taken appropriate cautions, and continues to still mask indoors, although those days may be coming to an end soon.  We still have some folks at risk in the studio, so we all take care of each other!
I am happy to talk to you as well about what behaviors we have that are riskiest now as well.  I believe we need to have open conversation about this, and to recognize that the risks I take affect you as well.  Happy to discuss this more so that everyone is comfortable with the choices we make.  Thankfully, the concern over infection is dropping towards a more manageable level with each day.
New students who are also new to the violin must do in person lessons as I teach hands on.
I THINK I AM READY TO LEARN MORE.  WHAT IS THE NEXT STEP?

Send me an email through the contact form, and we can arrange a phone conversation to figure it out.
WHEN DO I TEACH?
I teach Tuesday, Thursday and Friday.  Limited availability, so contact me now!  Wednesdays may return at some point.
If you are on free or reduced lunch, I have ONE significant scholarship available and free and reduced cost materials too. I am a 'musiclink' teacher.

If you are not on reduced lunch, but believe yourself to have other financial considerations, please do not hesitate to ask.  I believe cost should not be an impediment to regular lessons.  Scholarship options are available.

WHY SHOULD I SIGN UP?

Everything your child does in life will be better for having practiced their instrument.  I want you and your child to experience emotional freedom, not to be tied down by past experiences, but lifted up by them.  Learning music through violin is the path to this freedom.  Whatever occupation or activity they pursue, they will do it better, enjoy it with more balance, for having practiced violin.
For some, a regular visit to a church community connects someone to the divine.  I hear the divine in sound.  I can reach for that aid alone or with others, and make music that others enjoy that gives a wonderful feeling for all to share in together.  An experience that brings people together.  The world urgently needs more of that right now.
There is an oft misquote attributed to Aristotle, "We are what we repeatedly do. Excellence, therefore, is not an act, but a habit."  (Will Durant, North Adams, Massachusetts, 1885-1981, in his book, "The Story of Philosophy: The Lives and Opinions of the World's Greatest Philosophers." An instrument, violin, is a powerful vessel to teach a child why such a habit is worthwhile.
"YEAH, BUT CAN MY CHILD REALLY DO THIS??"
YES.  Definitely.  Sight unseen, he or she will be like other kids, and be a product of his environment.  If you want it for your child, then we will make it happen together.
One aspect of this is that the child isn't already being asked to do many different activities.  Kids need rest, and child-directed play time as well.  Give me a call and we can talk more about your child. 503 577 four three 48.
WHO DO I WANT TO WORK WITH?
I love teaching a variety of ages, but I find that kids that are about 4-12 years of age are the ideal fit, and specifically those children that have parents who are able to support the child in that goal by spending time with them.  No prior musical experience necessary.  Adults of all ages can be successful, and I particularly enjoy working with my elders in my studio!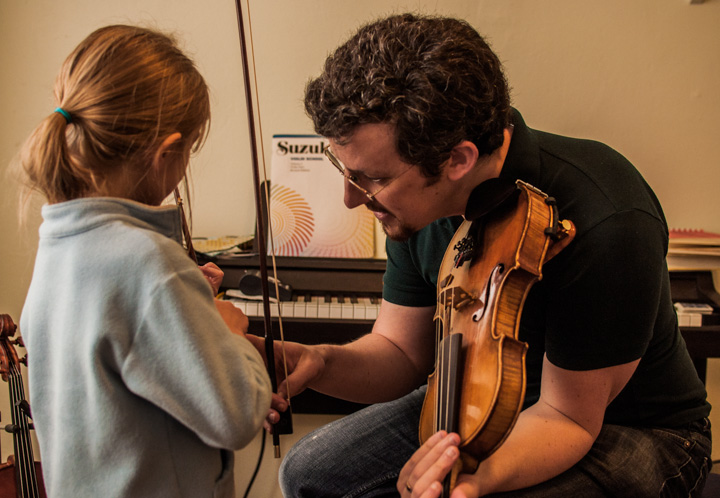 If your child is 3 or younger.  I STRONGLY encourage enrolling in a Suzuki Early Childhood education class (SECE) for your son or daughter if age 1-3, as they develop the skills needed for early instrument study, and help parents strengthen some of the habits that lead to Suzuki success.  THIS IS HANDS DOWN THE BEST WAY TO PREPARE YOU & YOUR CHILD TO BE SUCCESSFUL IN LESSONS.  We are very lucky to have a class in Portland!  Visit "DaCapoSECE.com" for classes!
I AM READY TO DO WHAT I NEED TO DO TO MAKE THIS HAPPEN!  WHAT IS THE NEXT STEP?

Send me an email through the contact form, and we can arrange a phone conversation to figure it out.  Talking with me, and observing a lesson or two is a great way to take advantage of the natural learning method.
WHAT IS REQUIRED?
Ideally daily practice of about 20-30 minutes to start depending on the age and ability.  There are weekly individual lessons and roughly every other week group classes on Saturday mornings.  As a student progresses, so will the time they need to spend practicing increase, with an eventual 60 minutes for intermediate players, and 75-90 for advanced players.
DO YOU ONLY DO CLASSICAL MUSIC? 
No!  I am a lover of bluegrass, some Jazz (Bebop & Swing to name two), fiddle tunes (New England, Scottish, Irish, Old Time and more), rock and more.  I use a mix of repertoires from the very beginning, which are enjoyed by the students.  However, the more advanced styles require more advanced technique so everything presented is at a developmentally appropriate level.
HOW TO PROCEED IF I WANT TO LEARN MORE, OR TO SIGN UP?

If you are interested in lessons for your child, go to my 'contact' page and send me a note which includes a phone # and times to reach you.  I like to hear a little bit about you and your family to confirm that violin is a good idea for you/your child in your situation, and to clear up expectations and logistics.  Signing up for violin lessons is a bigger commitment than, say, swim lessons, hence the phone call.
If you want to learn more about me, check out my blog. Click here!
HOW MUCH TIME WILL IT TAKE?
Daily practice of 20-45 minutes is a reasonable goal for successful, enjoyable violin study to start, though that can be worked up to, especially with young children, and new practice parents.
Adults that wish to learn (from scratch or to pick up an old instrument!) should expect to put in just as much time.
DO YOU TEACH ADULTS?
Yes!  This website is primarily aimed at kids, but I love worked with motivated adults too.  My students have included both new players starting from the earliest stage, to those getting re-acclimated.  Everyone ranging from from HS graduate to grandparents looking for a retirement activity.  It is possible to start as an adult and have a satisfying practice.  I know how violin study looks different at different stages of life.
May I impress upon you the adult, however, that regular time, week in week out, month in month out, is particularly important, and much more challenging as family, vacations, etc. regularly can interfere with momentum.
One of Suzuki's contributions to the music world was the idea that
KNOWLEDGE

times

REPETITION = ABILITY
So if you want ability, we will apply knowledge to repetitive action.  As such, time is the primary ingredient to success and enjoyment.  Your desire to succeed, organizational skills and receptiveness to coaching will maximize the time you spend.  A blue collar workman like approach is your biggest asset.  I particularly enjoy helping the motivated adult discover the joy of playing violin or viola.  The practice is spiritual in its own way.
See this awesome link to an NPR story called: Never too late to learn an instrument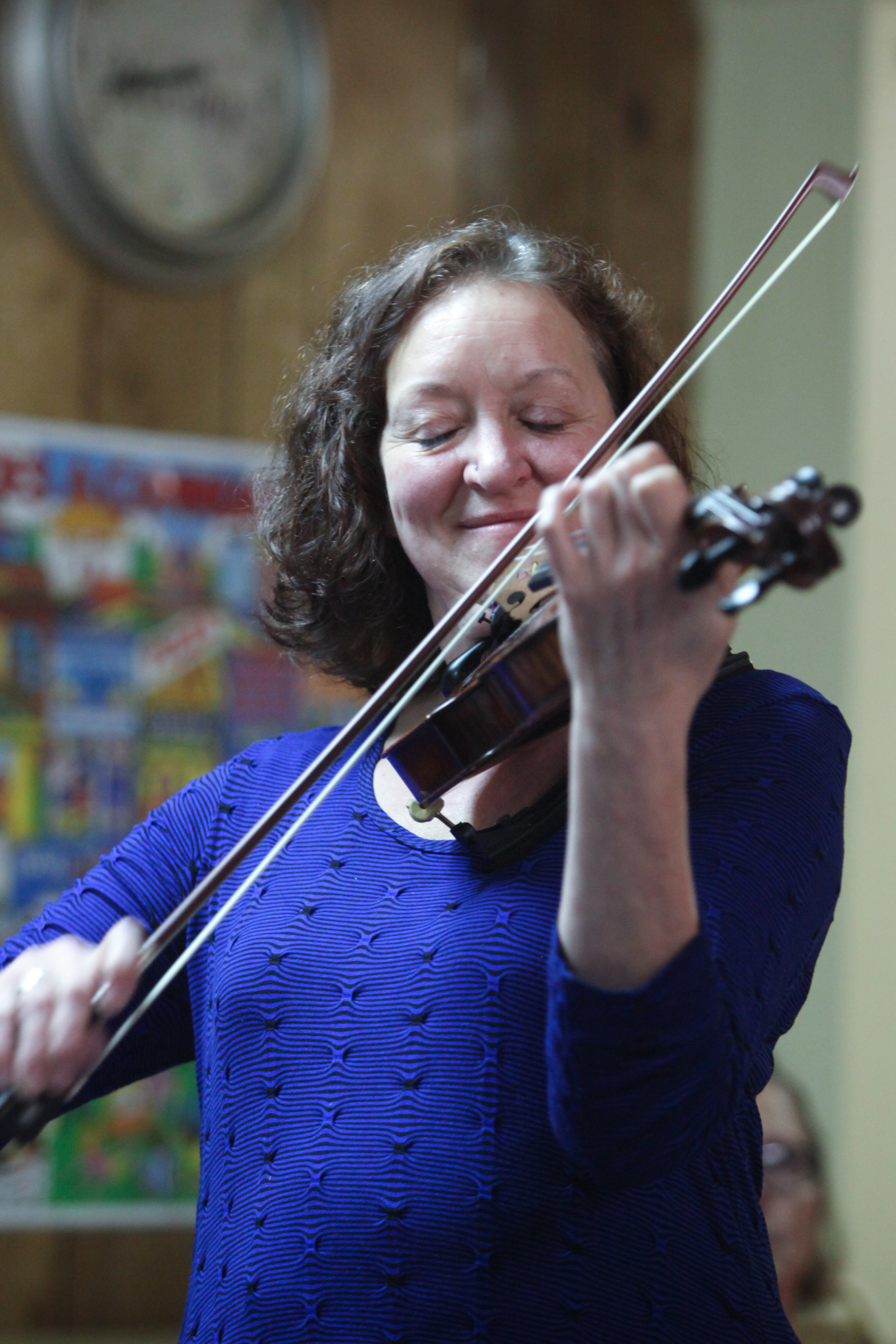 DID YOU KNOW THE NEW (MID)LIFE CRISIS CURE IS TO USE YOUR CREATIVITY!

A recent NY Times article, linked below (possibly behind a paywall if you've used your free articles), discusses how more than ever exploring creativity is what people are looking for later in life.  I have a wealth of musical and technical knowledge, but my real joy comes in just helping people of all ages ENJOY their music.  Music is an art with a little science in it, but most of all it is a reflection of being human, and our life force.  Join me for a free first lesson so I can give you some of the tools to unlock your musical creativity.
WHERE TO BUY AN INSTRUMENT?
Geesman Fine Violins, David Kerr, Caitlin Pugh Luthier Studio, Kennedy violins in Vancouver, and a few others I have good experiences with.  Sharmusic.com is an online shop that has some good merchandise, strings and sheet music for one.  Shops like those that I list provide quality well above just the sticker price.  The shop you purchase from should be in the business of repairing and working on violins, otherwise it's just a middleman marking things up.  Schuback violin shop was excellent, though he moved to Newburg.
PAYMENT & RATES

Lesson fees are commensurate with other professionals in the area.  Please contact me for current rates.  I do a monthly package deal, and also 'ala carte' individual lessons.
However, I was the beneficiary of multiple very generous teachers as a child so I also offer income based payment.  Ask me about scholarship options.  Also, if your family is blessed with the means, I also accept donations towards others.
Lesson fees for individual and group lessons for the months Sept-June are at a set monthly rate according to your lesson length.  The monthly fee will include all recitals, group classes, individual lessons, and parent education sessions.  The monthly fee will be due for each month due at the last lesson of the prior month.
I teach July & August too, but those months are usually billed ala carte, as are extra lessons during major holiday weeks.
CANCELLATION & SICK POLICY:
If you are too sick to come to lesson, but well enough to still play, I offer skype or zoom as an option that can be used during your regular lesson spot.  Facetime and skype options are available when working properly!
The monthly fixed rate lesson fees do not offer makeups or refunds as the schedule is fixed.  However, please inform me prior to your lesson if you expect to miss it as a courtesy.  If you give 2+ weeks notice, we can try to reschedule the lesson at another time mutually agreed upon during the same week.  Switching with another student of the same length is also possible.  For lessons September to June, as your time slot is reserved for you, no make ups or credits are provided if you miss a lesson as expected missed are factored into the yearly cost already.
Though I have yet to use it, I reserve the right to have 1 sick day per day of week per year (aka, one for Wednesday, one for Thursday, etc.).  If I have to miss more, or miss a lesson for any other reason, I will provide a makeup lesson, or a credit for future ala carte lessons, or similar remedy.
UPDATE FOR COVID: Stay home if anything remotely close to sick, and we will do your session online.  Online session also required if you have had a potential exposure as well.  For those who travel, by airplane or to other crowded location, we will do one online lesson in the week following.  Please be safe and know your choices will help keep the rest of the studio safe.
I WANT TO SIGN UP OR LEARN MORE.  WHAT ARE SOME OPTIONS?

Talking with me on the phone, and observing a lesson or group lesson are great ways to take advantage of the natural learning method.  I also offer a complimentary first lesson so you can get to know me risk free, just ask before our first session.  Send me an email through the contact form, and we can arrange a phone conversation to figure it out.
If you have any questions, please do not hesitate to ask.