WHERE AM I LOCATED? 
I am in SW Portland, John's Landing area, off SW Macadam Ave.  Group classes are at the nearby Korean Presbyterian Church.
AM I ACCEPTING NEW STUDENTS?
Yes!
I THINK I AM READY TO LEARN MORE.  WHAT IS THE NEXT STEP?

Talking with me, and observing a lesson or two is a great way to take advantage of the natural learning method.  Send me an email through the contact form, and we can arrange a phone conversation to figure it out.
WHAT IS THE RIGHT AGE TO START LESSONS?
I think a large part of this is determined by the family.  Generally, the earlier the better, similar to learning a new language is better the earlier you start.  However, I encourage parents of young children to make a commitment to a full year of lessons when starting out.  Success is much more likely when you begin with a long-term attitude.  I am comfortable teaching children ~age 4 on up, who minimally demonstrate short spurts of being able to follow directions, and who show some interest in music, and who have a parent involved.  Without the parent being involved, I am comfortable teaching children who demonstrate an ability to work on their own, and have an interest in music.
WILL I HAVE TO FORCE MY CHILD TO PRACTICE?
First off, what an excellent question!  I can tell by you asking (or reading about it at least) that you understand that getting things by force comes at a cost.  Did you have to force your child to brush their teeth?  If you did have any 'fights' or disagreements about this at any point, was it worth it in your eyes?  Who paid the price?
When practice is viewed consistently through this lens, that is it happens every day you eat, at least a little bit, then the 'one on one' time, satisfaction of achievement, or musical expression becomes the motivation to enjoy it as much as can be.
How much frustration your child has to face greatly depends.  They may really understand inside them the type of sound they want to create and get very frustrated about it not happening, RIGHT NOW.  They may be frustrated because of wanting more choice.  They may express frustration knowing that it gets them more of what they want.  As parents, our ways of handling frustration may not work for a very young child, so that also can be frustrating…for everyone involved!  'Solutions' to frustration are not always required.  Presence to the child in all emotional states helps them.
WHO DO I WANT TO WORK WITH?
Parents who want to reap the benefits of learning to play a musical instrument for their children, and/or themselves as parents.
Children should show some interest in music, and be able to follow short simple instructions before commencing.  Parents who are coachable and value the music.
No prior musical experience required, but check your expectations at the door.  This will not always be exciting for you as a parent, but I promise the time is well worth it.  Musical families are also great to work with as they often understand some of what it takes to succeed, although I will help with showing how this works with young children.
If your child is 3 or younger.  I STRONGLY encourage enrolling in a Suzuki Early Childhood education class (SECE) for your son or daughter if age 1-3, as they develop the skills needed for early instrument study, and help parents strengthen some of the habits that lead to Suzuki success.  THIS IS HANDS DOWN THE BEST WAY TO PREPARE YOU & YOUR CHILD TO BE SUCCESSFUL IN LESSONS.  We are very lucky to have a class in Portland!  Visit "DaCapoSECE.com" for classes!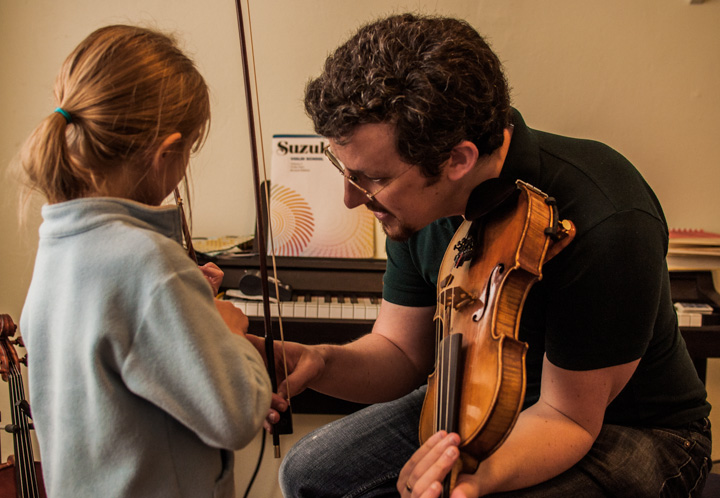 I AM READY TO DO WHAT I NEED TO DO TO MAKE THIS HAPPEN!  WHAT IS THE NEXT STEP?

Send me an email through the contact form, and we can arrange a phone conversation to figure it out.
"YEAH, BUT CAN MY CHILD REALLY DO THIS??"
YES.  Definitely.  Sight unseen, he or she will be like other kids, and be a product of his environment.  Surely children also have innate traits as well, but they ALL develop amazing abilities, language for one.  Music is incredibly enticing to kids.  To develop violin skills takes some coaching because it's not so innate for the parent or child to develop it right.  It is my job as a teacher to help you understand the steps we will take each week to ensure we are using an appropriate method to minimize unnecessary frustrations.  The first year of lessons can be a steep learning curves for parents, but I will work with you exactly where you are.
One aspect of this is that the child isn't already being asked to do many different activities.  Kids need rest, and child-directed play time as well.  Give me a call and we can talk more about your child. 503 577 four three 48.
WHAT IS REQUIRED?
Assignments will guide you and/or your child to develop your child's practice, as appropriate for their age and parental involvement.  Weekly individual lessons and every other week group class on Saturday morning are the central part of our time together.
HOW TO PROCEED IF I WANT TO LEARN MORE, OR TO SIGN UP?

If you are interested in lessons for your child, go to my 'contact' page and send me a note which includes a phone # and times to reach you.  I like to hear a little bit about you and your family to confirm that violin is a good idea for you/your child in your situation, and to clear up expectations and logistics.  Signing up for violin lessons is a bigger commitment than, say, swim lessons, hence the phone call.
If you want to learn more about me, check out my blog. Click here!
HOW MUCH TIME WILL IT TAKE?
Daily practice of 20-45 minutes is a reasonable goal for successful, enjoyable violin study to start, though that can be worked up to, especially with young children, and new practice parents.
Adults that wish to learn (from scratch or to pick up an old instrument!) should expect to put in just as much time.
SO YOU TEACH ADULTS?
Yes!  They have included both new players starting from the earliest stage, to those getting re-acclimated.  Everyone ranging from from HS graduate to grandmas looking for a retirement activity.  It is possible to start as an adult and have a satisfying practice.
May I impress upon you the adult, however, that regular time, week in week out, month in month out, is particularly important, and much more challenging as family, vacations, etc. regularly can interfere with momentum.
One of Suzuki's contributions to the music world was the idea that
KNOWLEDGE

times

REPETITION = ABILITY
So if you want ability, we will apply knowledge to repetitive action.  As such, time is the primary ingredient to success and enjoyment.  Your desire to succeed, organizational skills and receptiveness to coaching will maximize the time you spend.  A blue collar workman like approach is your biggest asset.  I particularly enjoy helping the motivated adult discover the joy of playing violin or viola.  The practice is spiritual in its own way.
See this awesome link to an NPR story called: Never too late to learn an instrument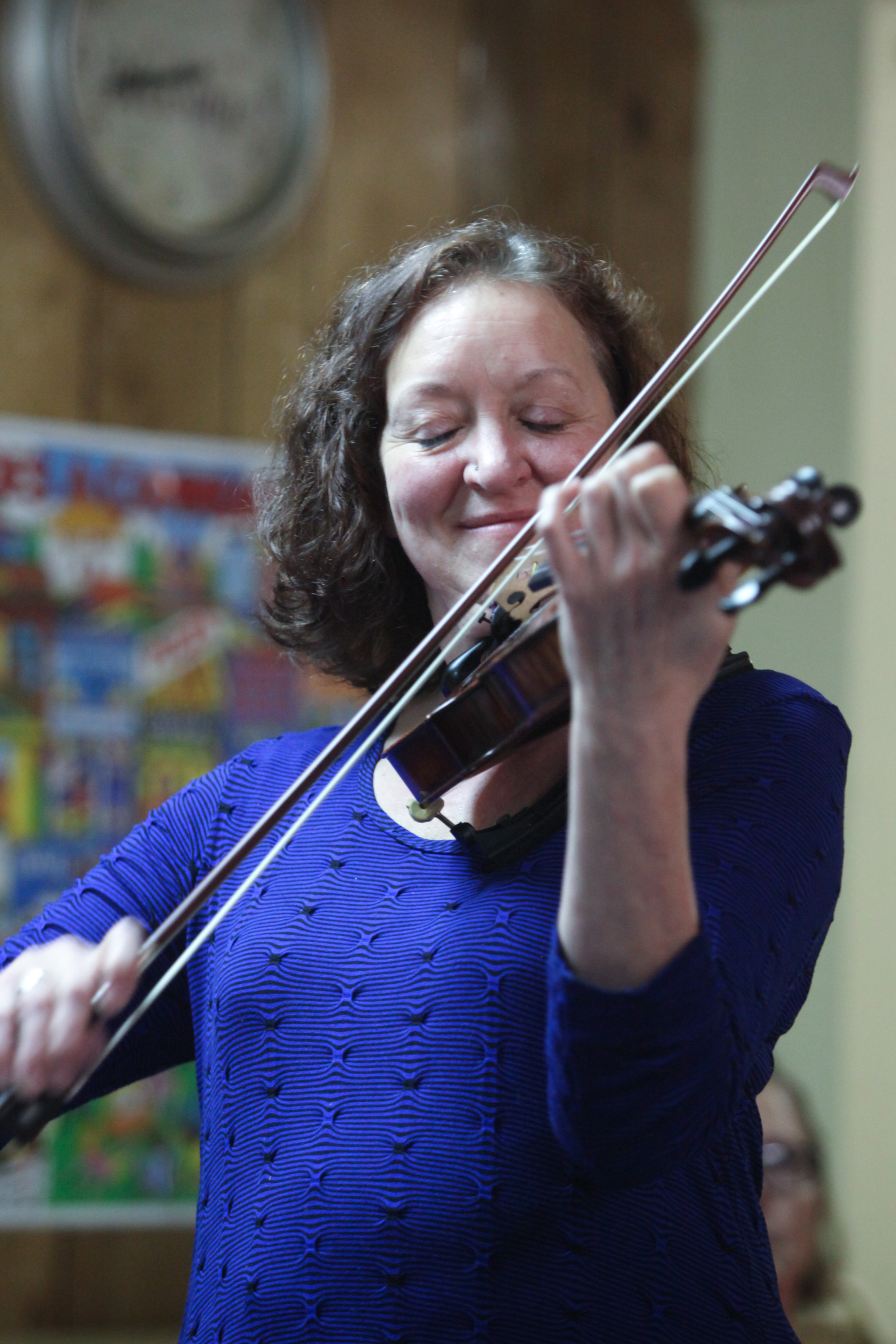 WHERE TO BUY AN INSTRUMENT?
Geesman Fine Violins, David Kerr, Caitlin Pugh Luthier Studio, kennedy violins in Vancouver, and a few others I have good experiences with.  Sharmusic.com is an online shop that has some good merchandise.  The shop should be in the business of repairing and working on violins, otherwise it's just a middleman marking things up.  Schuback violin shop is excellent, though he just moved to Newburg.
PAYMENT & RATES

Lesson fees are commensurate with other professionals in the area.  Please contact me for details.
However, I was the beneficiary of multiple very generous teachers as a child so I also offer income based payment.  Ask me about scholarship options.  Also, if your family is blessed with the means, I also accept donations towards others.
Lesson fees for individual and group lessons for the months Sept-June are at a set monthly rate according to your lesson length.  The monthly fee will include all recitals, group classes, individual lessons, SAA membership, and parent education sessions.  The monthly fee will be due for each month due at the last lesson of the prior month.  The rare teacher miss will lead to a credit for the July/Aug months, or a holiday lesson week makeup, or if enough build up a free month's tuition!
I teach July & August too, but those months are billed ala carte, as are extra lessons during major holiday weeks.
If you are on free or reduced lunch, I have a significant scholarship available and free and reduced cost materials too. I am a 'musiclink' teacher.

If you are not on reduced lunch, but believe yourself to have other financial considerations, please do not hesitate to ask.  I believe cost should not be an impediment to regular lessons.  Scholarship options are available.

CANCELLATION & SICK POLICY:
If you are too sick to come to lesson, but well enough to still play, I offer the occasional facetime or skype option that can be used during your regular lesson spot.  Facetime and skype options are available when working properly!
Lesson fees are done on a fixed monthly rate, so no makeups.  However, please inform me prior to your lesson if you expect to miss it as a courtesy.  If you give 2+ weeks notice, we can try to reschedule the lesson at another time mutually agreed upon during the same week.  Switching with another student of the same length is also possible.  For lessons September to June, as your time slot is reserved for you, no make ups or credits are provided if you miss a lesson as expected missed are factored into the yearly cost already.
Though I have yet to use it, I reserve the right to have 1 sick day per day of week per year (aka, one for Wednesday, one for Thursday, etc.).  If I have to miss more, or miss a lesson for any other reason, I will provide a makeup lesson, or a credit for future ala carte lessons, or similar remedy.
I WANT TO SIGN UP OR LEARN MORE.  WHAT IS THE NEXT STEP?

Talking with me, and observing a lesson or two is a great way to take advantage of the natural learning method.  Send me an email through the contact form, and we can arrange a phone conversation to figure it out.
If you have any questions, please do not hesitate to ask.
And for your bonus of scrolling this far, and perhaps even reading some of this, some bonus coupons….because if you are the type of parent who reads material like this, you probably will be easier and more enjoyable to work with.
**Also if your child is 7 or under, a special discount for you as I know those years require some penny pinching!